"WE PRIDE OURSELVES ON OUR CUSTOMER SERVICE"
VERIFIED REVIEWS
---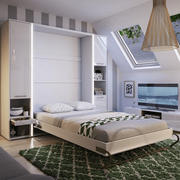 "Great for our summerhouse! Was sort of fun to put together and mildly confusing - but we got there in the end. Definitely helps with 2 people though. Thanks for keeping us updated and informed. Might get another one next year for the spare room, but need to rest a little now :)"
- Jodie M.
---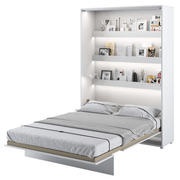 "Brilliant!! Perfectly IDEAL for the small bedroom space! Relatively easy to put together - cancel the gym session for the day! Bed itself is pretty sturdy and hardwearning, I got the gloss option - glad I did tbh, looks gorgeous with the light through the window. You must attach to the wall before the pneumatic rods are fixed - pro tip. Thanks a bunch guys."
- Vida M.
---
"I really delightful sofa wall bed. I waited about 9 weeks for delivery and install. The whole process was quite smooth. I am really happy with my Ello sofa wall bed. Its easy to use and super comfy"
- Eli S.
ELLO Vertical Murphy Sofa Wall Bed | DOUBLE BED | 140cm x 200cm
---
"Many thanks! Bought this wall bed for my kids bedroom. Now he has a nice space to play, study, and more space for his books and big boy's toys. Goes up and down really good, and is safe to be opened by my 13-year-old. Nice to be able to choose colours and customise it. Thanks again."
- Lizzy W.
---
"Great product - well made and just what I needed for family gathering BBQ do's. Delivery was relatively quick and convenient with all the delays going on at the minute. Took a few hours to assemble by myself but instructions were clear and packaging of nuts and washers was very helpful. I did put one part on the wrong way round but easy fix by going back a few stages!. I would definitely recommend watching the video clip when assembling the gas fittings as the instruction pictures are quite hard to follow but easy after watching the video on youtuube. The only problem I had was finding gas as there seems to be a bit of a shortage just now, where I am. Managed to get some in a local garage after a frustrating search. Most places will not sell gas unless you have an empty gas bottle, and they are a few quid. I have now used it several times and love it - easy to control and clean, great cooking. I would consider getting a hot plate for frying. Expensive but would definitely recommend it to all my friends. Thanks Whistler and Bliss."
- Geoffry. W.
---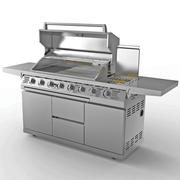 "Can't cook without it, now - here's to hoping for a glorious summer! Cirencester all the way."
.
- Mike. O.
---